Deburring Brushes for the Metal Working Industry
About Deburring Brushes
Brush Research Manufacturing Co., Inc. has been a leading supplier of specialty industrial brushes for deburring since 1958. Deburring is a finishing method used in industrial settings and manufacturing environments. Metal is machined using a variety of processes in order to create pieces of specific shape and size. For example, metal may be turned, milled, punched, drilled, reamed, blanked or any number of types of machining processes. These processes often create ragged or sharp edges and protrusions. The raised particles and shavings that appear when metal is machined are referred to as burrs, and the process by which they are removed is known as deburring.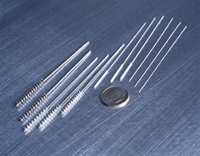 Deburring may be accomplished by any of several methods including the use of deburring brush tools. Deburring brushes may incorporate abrasive substances that rub the metal in order to remove thin shavings and protrusions. In other cases, the deburring brushes will employ metal filaments that act like a "chisel" and deburring occurs through impingement of the filament tips against the burr.

Deburring is important for safety, quality, aesthetics, functionality and smooth operation of working parts. Even a small chip or burr can break loose during use of a piece of equipment causing catastrophic failure. Rough edges can also cause injury to workers making parts or to people who used the finished items. Burr formation in machining accounts for a significant portion of machining costs for manufacturers throughout the world. The cost and time needed to perform deburring operations is significant.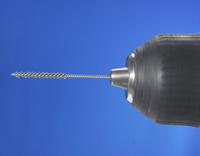 Brush Research manufactures industrial deburring brushes made from abrasive nylon, carbon steel, stainless steel, nylon, brass and tampico fiber filaments. Our deburring brushes come in many different configurations depending on the type of burr and the method for removal.

For cross hole deburring internal diameter applications, twisted-in-wire brushes work best:

•Miniature brushes are available in sizes .024 through ½" diameters and are ideal for cleaning hard to reach areas.
•Tube brushes are manufactured in 1/8" through 3" diameters and are made for cleaning inside holes and other hard to reach areas.

For outside diameter applications, there are many power brushes to choose from in abrasive nylon or wire:

•Wheel brushes are manufactured in many varieties including knotted wire, crimped wire, nylon, abrasive nylon and more.
•Cup brushes are available in a range of diameters and in abrasive nylon or wire filament materials.
•Mandrel mounted brushes are available in standard ¼" diameter stems, as well as flared styles ranging from 1-1/2" through 3" diameters.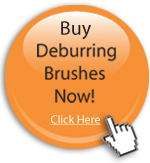 Deburring Tools are Great For:
Industrial and Manufacturing Environments
Deburring Cross Drilled Holes
Tube Deburring
and more!
Manufacturing Deburring Brushes
Brush Research manufactures our deburring brushes under the most rigid quality standards.
As an ISO 9001:2008 certified company, BRM is committed to making quality deburring products.
100% of our deburring brushes are made in the USA. We offer application assistance and a full test lab for your most difficult projects.


Brush Research Mfg
Punctual delivery with large in-stock selection
One of the largest manufacturers of professional grade brushes and tools
Helpful technical advisors ensure you get exactly the right tools you need
International Distribution
and more!
Members Of