Brochures
Flex-Hone 4-Page Brochure
Find Flex-Hone sizes from 4mm to 36" listed along with the available grits and abrasives. Flex-Hone color code chart is included to help identify the tool.
Click here to order
Click for PDF
Flex-Hone for Firearms
This four page color brochure shows this special application of the Flex-Hone tool. Applications covered include shot gun barrel, rifle chamber, revolver cylinder and slides.
Click here to order
Click for PDF
Diamond Flex-Hone
Brush Research Manufacturing presents the newest innovation in the continuing evolution of our Flex-Hone technology: Diamond Flex-Hones. These new tools are designed for deburring, edge blending and surface finishing in hard materials like carbide, ceramic and aerospace steel alloys.
Click here to order
Click for PDF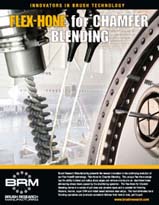 Flex-Hone for Chamfer Blending
Standard Flex-Hone tools are very effective on the interior corners (the intersection of the chamfer & the hole wall). Our new Flex-Hone for Chamfer Blending tools are more flexible and designed to polish and radius the outer corners (the intersection of the chamfer and flange face) as well as the inner corners and hole. The increased flexibility allows the tool to pass through thin web sections and polish the chamfer on the back side as well.
Click here to order
Click for PDF
Flex-Hone for Rotors
This single page flyer lists the benefits of using the Flex-Hone for Rotors for finishing brake rotors and flywheels. It includes testimonials from several satisfied users.
Click here to order
Click for PDF
Miniature Deburring Brushes
This single page flyer details the variety of miniature deburring brushes available and included information on both stainless steel and abrasive nylon filaments.
Click here to order
Click for PDF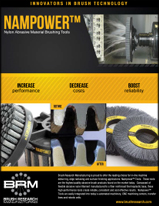 NEW Nampower Line- Nylon Abrasive Material Brushes
This 4 page brochure presents our NamPower line of abrasive filled nylon disc-type brushes and composite hub wheels. Available in HexDrive, Disc Type and Wheel configurations in a variety of abrasive types and grits. Ideal for automated deburring and finishing.
Click here to order
Click for PDF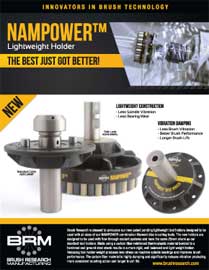 Nampower Lightweight Flow-Through Holders
BRM is pleased to announce the release of a new lightweight tool holder. Download the flyer or request a copy for more information.
Click for PDF
NEW Diamond Miniature Deburring Brushes
Introducing a new line of miniature twisted-in-wire deburring brushes made with diamond impregnated nylon filament. These brushes are ideal for solving many deburring, edge radiusing, and finishing problems where harder materials are present. Target industries include ceramic, glass, aerospace, and tool and die. The tools are available for both blind hole and through hole applications in a wide variety of diameters.
Click for PDF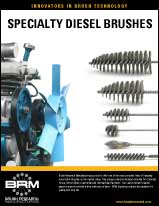 Specialty Diesel Brushes
Brush Research Manufacturing is proud to offer one of the most complete lines of Specialty Automotive Brushes on the market today. This unique collection includes brushes for Cummins Group, Detroit Diesel, Caterpillar and International Harvester. Our custom diesel brushes assure a superior rebuild with a minimum of labor. BRM brushing tools set the standard for quality and long life.
Click here to order
Click for PDF
Parts Wash Brush
Simply the best parts wash brush on the market. The brushes are available in a flow through design with or without shutoff valve. Ergonomic design reduces stress and wrist fatigue.
Click here to order
Click for PDF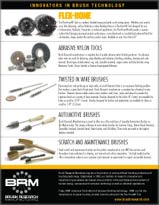 Brush Research Product Line Card
This convenient one page flyer is a brief overview of Brush Research's product line. Several product lines that are highlighted include our honing tool line, the Flex-Hone, power brushes, abrasive brushes, deburring brushes and much, much more.
Click here to order
Click for PDF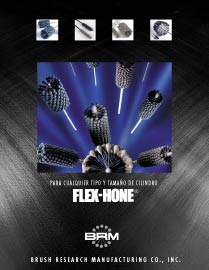 Flex-Hone 4 Page Brochure in Spanish
Brush Research's Standard 4 page Flex-Hone Brochure is now available in Spanish. This brochure describes the unique benefits to this very effective honing tool. Information on standard sizes, abrasives and grits are also available.
Click for PDF