Wire
Brushes
Wire brushes are some of the most common industrial finishing tools on the market and can be used for a number of applications. Brush Research Manufacturing manufactures and distributes wire brushes in crimped and knotted varieties. From wire wheel brushes, wire cup brushes, knotted wire end brushes, and more, Brush Research Manufacturing has the crimped or knotted wire brush for your application.


Crimped Wire Brushes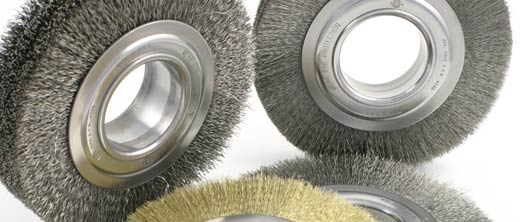 Crimped
wire brushes
are best suited for appearance finishing, edge blending, cleaning and polishing of internal and external tube diameter surfaces as well as irregular external surfaces. Because of the many capabilities of these wire brushes, Brush Research Manufacturing offers crimped wire brushes for standard, heavy and super duty applications. Depending on the work piece and finishing you desire, we offer crimped wire brush varieties in dimensions 3"-15" in diameter.
Crimping of wire bristles in wire brushes is done for two major reasons:
Crimping makes the wires stand apart from each other
Crimping absorbs the flexing and vibrations and also helps to prevent wire fatigue and breakage
Knotted Wire Brushes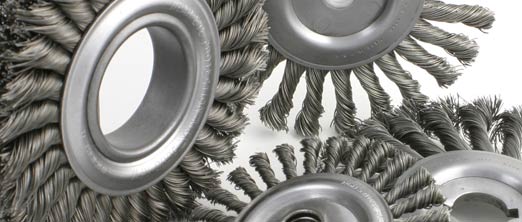 When heavy brushing action is necessary,
knotted wire brushes
are a great alternative. These wire brushes possess durable cutting action for cleaning applications. Because of their knotted bristles or tufts, these wire brushes are more rugged making the cutting action more aggressive. The tufts will also absorb the vibration which helps eliminate the bending and, therefore, reduce wire fatigue. In addition, with the top third of the knotted bristles being slightly flared, the design of knotted wire brushes is the reason why they are able to sustain an aggressive cutting action. Knotted wire brushes are available in sizes 3"-15" in diameter. One of the most common applications for knotted wire brushes today is in oil fields where heavy brushing action is required.
With both wire brush styles, it's easy to see why wire brushes are commonly used and why Brush Research Manufacturing produces so many varieties. When you need aggressive cutting action for deburring, finishing or cleaning,
contact a distributor
near you to order your wire brushes.
Featured
Products