Flex-Hone®
Sizes
The Flex-Hone® is offered in sizes from 4mm to 36" standard. The Flex-Hone® tool is available in 9 different abrasive types and 11 different grit selections. The large variety of tool configurations allows you to custom tailor the right tool for your application. Do you have finer finishing tolerances? Selecting the right grit and abrasive type will allow you to accomplish specific finishes.

Tool Diameter is determined by the bore size you are working with. Flex-Hone tools do not cover a range of sizes. The proper size tool is critical for achieving the highest overall performance and tool life. For example, a 1" Flex-Hone size is ordered if a 1" bore is to be finished and the tool is provided oversized. If the bore size is between standard Flex-Hone sizes, the next larger standard Flex-Hone should be selected. For instance, if the nominal bore is 1.093", then the 1-1/8" Flex-Hone is ordered.

NOTE: The tool will appear oversized. This is not a mistake. The Flex-Hone tool is always produced and used in an oversize condition. The degree of oversize creates a soft cutting action, producing the appropriate amount of pressure against the cylinder wall to allow the tool to do its job.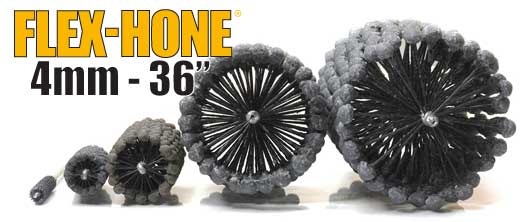 Custom Flex-Hone Sizes
Do you not see the size or style of hone you need? BRM can custom design a tool to fit your needs. Our in house design team can create
Custom Flex-Hone tools
with special sizes for overall lengths, abrasive brush shapes (tapered, stepped, dome,etc), globules sizes, special minimum and maximum diameters. Sending in a drawing will help assist our team create the best tool for your application.
Featured
Products