Marine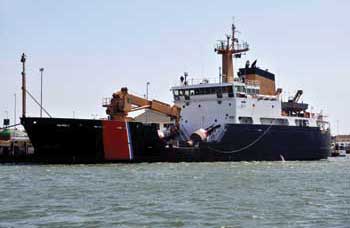 Brush Research Manufacturing (BRM) provides Flex-Hone® tools and industrial abrasive brushes to manufacturers of marine engines and the mechanics who service them. Available in diameters that slightly exceed the bore size of the engine block, the Flex-Hone® tool radiuses the port while removing metals burrs. By automating the deburring and surface finishing process, manufacturers of small ported engines can improve radius quality and eliminate burrs that cause excessive ring wear and, ultimately, marine engine failure.
Marine service shops use large-bore Flex-Hone® tools to maintain the big-bore diesel engines that power tankers, freighters, and other large ocean-going vessels. In addition to ship engines, the Flex-Hone® is used to refurbish marine pumps and valves. This versatile, abrasive tool can be used on marine hydraulic cylinders, too. By creating a crosshatch pattern for optimum lubrication, the Flex-Hone® tool reduces oil consumption and supports the anti-wear performance of hydraulic oils.

Suitable for shipyards and marinas alike, brush tools from Brush Research are a good choice for boaters and boat builders. NamPower™ abrasive brushes are great for cleaning fiberglass boats and improving the surface finish of marine components.
Flex-Hone® Applications
Main engines (inboard, outboard, two-port, four-port, diesel)
Marine generator engines
Marine hydraulic cylinders
Air intake lines (aluminum air intake ports)
Surface preparation for adhesion applications
Industrial Brush Applications
NamPower™ Brush Tools
Cleaning fiberglass boats
Surface finishing of marine components
Related Resources
Application Guide: Mercury Marine Improves Quality Control with Special Honing Tool
Common Practices in Cylinder Boring (Ported Engines: Two Strokes)
Flex-Honing: Taking It to the Big Stuff (Industrial Machinery Digest)