Aerospace / Aircraft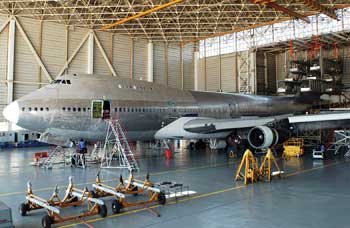 Brush Research Manufacturing (BRM) provides Flex-Hone® tools and industrial abrasive brushes to aerospace companies, aircraft manufacturers, jet engine builders, and aviation MROs. Available in various abrasive types, grits, and sizes, the Flex-Hone® tool provides superior cutting and surface finishing for aerospace materials and space age alloys such as type 302, 304, 416 and 17-4 stainless steels; Hasteloy®, Monel®, and Inconel® 718; Titanium 6AL-4V; and specialty aluminum alloys.
The Diamond Flex-Hone® from Brush Research is ideal for the deburring, edge blending, chamfering, and surface finishing of hard materials like carbide, ceramic, and aerospace steel alloys. With its resin-bond crystals, this diamond tool is used to automate labor-intensive activities such as chamfered honing, hole drilling, edge breaking, and deburring. For surface conditioning and parts deburring after machining or grinding, choose NamPower® abrasive brushes as your aerospace / aircraft brushes.
Flex-Hone® Applications
Through-hole edge rounding in aircraft engine components
Chamfer blending on rotating engine parts
Removing stress risers and polishing holes for landing gear equipment
Rust removal and surface preparation for Eddy current testing
Automated cutting, edge breaking, and deburring operations
Surface finishing of helicopter rotor drive shafts
Deburring the bearing surfaces of hydraulic swivel components
Industrial Brush Applications
Consistent surface finishing for metallics, super alloys, advanced composites, and ceramics
Precision deburring of aircraft component parts after machining or grinding
Blending surface imperfections and inconsistencies
In-line machining, deburring, and edge radiusing
Aerospace / aircraft brushes for parts cleaning
Related Resources
Flex-Hone® for Chamfer Blending
The Flex-Hone Tool in Aerospace Applications
Smooth Flight (Cutting Tool Engineering)